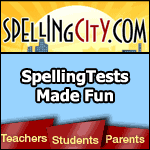 Here are a few steps to follow to get to your spelling lists:
1. Click on the student tab above.
2. In the new window click on Kim McCullah.
3. On this page you will see all my spelling & vocab lists so just click on the appropriate list.
4. Play around and find the way that best helps you learn your words!